Netiva "The Frugal CrediTnista" Heard is a Financial Empowerment Coach who is extremely passionate about educating, equipping, and empowering consumers to confidently transform their finances!
Her enthusiasm and spirited delivery will motivate your group to improve their overall financial health and implement her strategies right away.
Pockets, Purses & Purpose – How to Assertively Align Your Money w/Your Purpose (Most Requested)
Soar Your Credit Scores! 9 Steps to A Better FICO – My Signature Credit Improvement Plan Broken Down Into 9 Actionable Steps
Be A Debt Rebels – Tips, Tactics & Strategies for Destroying Debt & Living Debt Free!
Boss Budgets! – My 9 Steps to Budget Mastery
"Navient; You're FIRED!" – Understanding Student Loans, Repayment Options & Forgiveness Programs (Federal)
Rent 2 Home Challenge – Home Ownership Planning from A – Z
Don't see exactly what you need? Let's discuss a customized plan tailored to your audience's needs!
For more information about booking The Frugal CrediTnista at your next event, email booking@mnhcreditsolutions.com.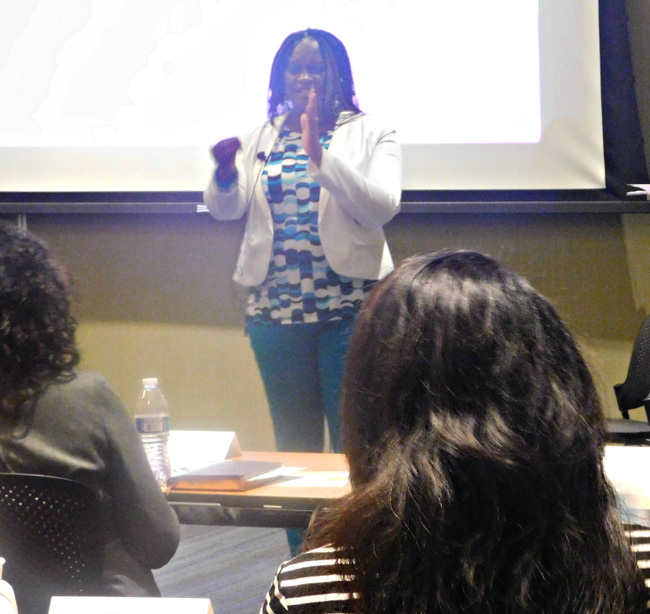 It's been quite a battle but I'd like to introduce the newest member of the "700" club 😛. #CreditMatters 🙌🏽Go Me-Go Me🙌🏽
So while everyone else all in love I'm thankful. I am thankful to Netiva Heard for all the guidance and wisdom she provides. In listening to what she has taught my I am almost legit with my budgeting, my credit card amounts have in one case increased 10 times the aount (a shock as I;ve had the card since 2010 and it was the same amount all that time) I have different types of credit incuding an installment loan, and secured loan (although I'm learning a hard lesson with the interest rate and that Santander is the devil) now and I'm truly being responsible with my financial life. Nothing she can ask for ever it's within my means to do it that I won't do for her. I am forever grateful!!!!
I hired Netiva Heard a couple of months back and let me just say this, she is the BOMB!! I have SS in the bank, a set budget, and a deletion off my credit report. Thank you for everything Netiva. You are a true gem. You're knowledgeable, relatable, compassionate, honest, and funny lol. Sometimes she would make suggestions and in my mind I'll be like nope can't see it lol and should would not let me give up. Although, we've never met in person it seems like I've known you a lifetime. Thanks again. 🧡🧡
DORMHOW Wheeewww who #Praise Report got a total of 6 items deleted off of my credit reports now I only have 1 item on each score started at 483 now it's 650 in 3 1/2 Months - 4 Months O D DI needed 3 positive streams of revolving Credit (I selected fingerhut and 2 credit cards This is the final approval for the 3rd streamHHH DODO All of this is thanks to this awesome groups knowledge and Netiva Heard Advice from a consultation and her periscopes Do Thank you HHWOOD I'm almost at my Goal of 725 MAHOO
I started in the group in Sept. 2016. I had just learned that my 2007 WW would soon need a new transmission and I had already put too much money into the vehicle to invest anymore. I also knew that my credit was in bad shape 543. For about 6-7 years I lived comfortably by cash and didn't care about my credit, I'm already a homeowner and was able to live and save without the need of credit... until now when I needed it. I initially paid various companies $99 a month to help me fix my credit but by January was tired of paying them without seeing enough results. Then I had a consultation with Netiva Heard as well as purchased and won several of her DIY options and it has paid off! While my credit isn't where I want it to be, I am now at 646 which is over 100 pts!!!! AND I just purchased a new Grand Cherokee Overland for $385 a month! I was also approved for a 320i xdrive BMW very nicely loaded for $399 a month. So needless to say I am VERY happy and I had to share my story because I'm so grateful for what this group has taught me.
***Praise Break***I'm going to tell you a little bit of my story. I joined the Dream Catcher's group and met a few credit specialist. I inboxed and spoke with several. Netiva Heard and I hit it off, so I chose to work with her off the break...I explained my situation which was future hubby credit score was 800's and mine was low 500's) we were in the process of paying for a wedding and fertility all out of pocket plus starting to look for a brand new home! I had to GET MY SHYT all the way together fast!!!!!! ! So Netiva went to work and I mean she went to work in 45-60 days my score went up I think 100 pts and we settle on our brand new home in July and are very happy. I just applied for a CC with Navy Federal and was approved for a 25K credit limit...I asked the lady could she repeat that again b/c I had to ensure she said what I thought she said! She said yes Mrs. Burley I said your approval was for 25,000. So in one year I have gone from having a $500 limit with Nordstrom to $6000 and now Navy Federal gives me $25K! Thanks so much Lady
I'm forever grateful to God and Netiva Heard for Sharing your knowledge and all of those who inspire. This has truly been a journey and I still have work to do but I'm closer to my dreams. I logged on to this today and I'm just waiting on my alert from Fico that my score has increased. Be mindful I was in the low 400 a few months ago. Between last week and today it went up about 170 points.#Trust the process
I met my fiancé 4 years ago. 2 years ago, I was living in section 8 housing with no knowledge of credit or financial freedom. Today, 5-20-2016, my backbone and I closed on our first home together! We are both debt free except our student loans and our new mortage! It wouldn't have been possible without me meeting Netiva! She is my credit goddess and because of her, I have a story to tell...I have a blessing to shout! I have a reason to inspire others that they can be just as blessed if they're determined. #Homeowners
Nidia Jackson Myrick One of the best investments ever! In just 2 months, my credit scored increased tremendously, at least 50pts and just last week it went up 11 more points! You won't be disappointed.
Partners, Partners, Partners... let me tell you that Netiva and her company are all of that and then some. If you have not signed up, you need to. I had my counseling session today (worth everything), and it was like talking to a friend and having someone tell you your fortune all at once (...for the record, I am not into no palm reading, lol ). In this session I was told what I am doing right, what needs to be improved, what to stop doing, what to keep doing, what to dispute, what to pay. When I got off the phone with Keesha, the "100% Certified Credit Counselor", I felt like I had just laid on the therapists couch releasing all of my credit problems. I am thankful and with the plan that I was given, I am on my way to credit recovery and the 700 club. If you are looking for the perfect gift for yourself this season, give yourself the gift of "good credit", a gift that keeps on giving. Slay your credit, get the counseling, put your credit on fire!!
This is Dee. I wish i could reach thru this screen and give you the biggest hug. Just checked the mail and got notification of three deletions from Experian!!!!!! And its all thanks to you. One more to go and waiting to hear from the original creditor. But....it's working. You go gurl 🙂
I've paid off 2 . Big accomplishment for me. A that God will continue to guide my footsteps and with the help of this group to #SOARTHATFICO #SAYITSEEITSEIZEIT. #CLAIMING #MY #HOME #IN #2017
Netiva Heard remember a lil over a year ago you and I had a Conference Call and we were going over my Credit Report and Scores (low 600's )and you gave me some advice and Suggestions and Reminded me that it takes time and Patience so water it and watch it Blossom...well look at these Scores Now!! I jus wanna Say thank you luv Hope you are one Proud Momma
I've been more intentional about the application of knowledge. This card had been sitting at a $300 limit for at least 8 years!!! Got an email this morning of a $3k limit increase!!! Using wisdom from Netiva and this group - I'm more responsible with my spending and focus!!! This was also another opportunity to speak to my 5 daughters about credit and what it means. Three of the 5 are authorized users on my card. Doesn't help them if I'm not responsible! Thank you team!! Keep up the great work and be encouraged!!
Ya'll, I made it!! Thanks to you Netiva
Netiva! Today's Q&A was awesome! I just watched the replay and it gave me life! I had been feeling so defeated lately with my endeavors, but that was good info that let me know I'm on the right track! I also think I'm firing my current credit repair guy. He's gotten a lot of things removed, but I think at this point I can take it from here with your guidance.
My credit score went up 106 points I followed the steps Netiva Heard gave me in my posts. Next step is bring my utilization down and I will be in the 700s
I just got to say....I watched seems like a million videos...researched EVERY darn collection law. followed and reached out to 100 credit repair people and Netiva is by far hands down the best...just thru her you tube, periscope and this group I have learned SO MUCH truthful and valuable info... I finally feel like I can do this.. There's hope....so thank you Netiva for ALL you do...once I rock this credit repair then I definitely doing the rent to home course...gots to make that dream of home ownership come true....
I feel like a rockstar! 109 pts in a month.
Guess who got a credit increase to 9,000? Credit score 661 Denied for refinancing my mortgage but I plan to reapply in august #Thank God
© 2020 MNH Financial Services All Rights Reserved